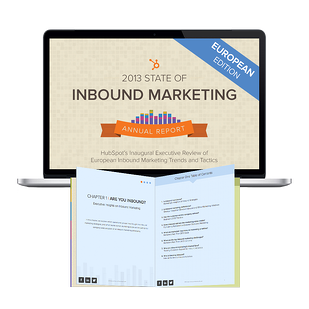 80% of marketers in Europe integrate inbound marketing with their larger business goals. How does your company stack up? Is Europe really behind the U.S. in adopting inbound marketing?
Download HubSpot's 1st Annual State of Inbound Marketing - Europe Report for answers to these questions, and more. This report is the first and only comprehensive review of the inbound industry available, with data analysis from 13 different countries, including CEOs, agencies, and marketer insight.
Unlike most research reports, we're not charging you hundreds of dollars. We're offering it completey free so you can learn how to transform your business into an inbound one.
By downloading this report, you receive:
Benchmark data on inbound tactics compiled from actual results - not theory - driven by over 443 marketers across the continent
The business case for adopting inbound marketing
Keys to building a successful inbound team
Commentary from industry leaders, including Bryan Adams (PH Internet Marketing Agency), Doug Kessler (Velocity), Linus Gregoriadis (eConsultancy) and Richard Baxter (SEOGadget.com)