Introducing the Content Marketing Guide.
Planning, developing, and promoting your content can be extremely difficult and time consuming, especially for smaller companies that may not have the resources to hire a content team.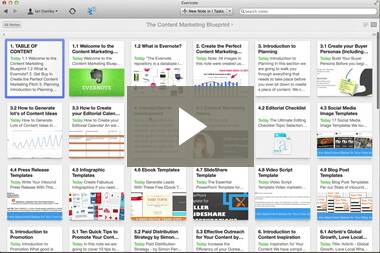 It's easier when a clear path is mapped out for you, so HubSpot and Evernote teamed up to bring you this Content Marketing Guide.
The Content Marketing Guide is the ultimate collection of content templates and tips packaged in an Evernote notebook.
In the notebook we'll take you from the very first stage of getting buy-in from management, all the way through the planning, development, and promotion of your content, as well as providing an inspirational note to get your creative juices flowing.
Get access to the guide and you'll learn:
How to create content efficiently
How to promote your content
How to get readers to share your content
How to get buy-in to help you secure resources and budget
How to generate lots of content ideas
How to create buyer personas
Plus lots of content ideas and an editorial calendar to help bring them to life
Simply fill out the form to get access to the guide and you are sure to find yourself a treasure chest of content awesomeness!
Brought to you in partnership with