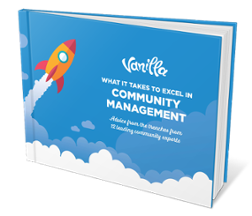 People come to your brand initially for content, but they stay for community.
When people are treated well and have a good experience, they stick around. And when they stick around, they become advocates for your brand.
How are you engaging with your audience and building a community?
Community management has become an essential part of a successful long term social media marketing strategy. But in order to get there, you need to first put in the effort to develop deep personal relationships.
In this ebook, brought to you by Vanilla Forums, you'll learn:
The best tactics in community management to build up to your first 100 members.

What metrics executive teams use to measure community success.

How to find a great moderator.

Much more about community management!
MEET THE EXPERTS: