Rajan Kapoor
Enterprise Solutions Architect, Dropbox
Rajan helped open Dropbox's NYC office and for several months, the office was his bedroom. He's focused on keeping a strong remote culture while making sure the team supports, and feels part of, the culture of Dropbox. During his 13-year career in IT Operations, Rajan has become an expert at both managing remote workers as well as being the remote worker.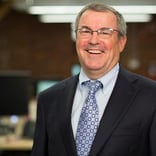 Dan Tyre
Sales Director, HubSpot

As employee #6 at HubSpot, Dan has led the recruiting, training, and growth of HubSpot's sales team, all while working remotely. Flying to HubSpot's Cambridge office every two weeks from Arizona for the last 7 years, Dan is a master of managing a successful and growing workforce while headquartered 3,000 miles from HubSpot's office.