We know ... it can be a little exhausting to keep up with "what's next in digital" as a brand. Working on trying to integrate Snapchat and Instagram? Wondering if it's worth trying to lure and capture Pokemon Go players? Burned out on other "live" video platforms and apps? Fear not -- here's why Facebook Live is totally worth adopting into your digital strategy:


GETTING STARTED WITH LIVE VIDEO IS EASY
If you've never tried video or live video, or even if you tried out a service like Periscope or Meerkat, and it wasn't quite right, investigate Facebook Live.
Your brand probably already has a presence on Facebook, which means no additional app to set up. It's also super easy to get started -- all you need is your smartphone.


LIVE USES FACEBOOK'S SOCIAL POWER
Facebook's Social Graph tells marketers a ton of demographic and behavioral information about our audiences, and Live lets us leverage that perfectly, generating that engagement data in real time.
People get notified when their friends are watching a Live video, and users can invite others to watch with them. They can also jump in at any time while the video is streaming, using Facebook reactions and comments to engage with the video while also watching how other viewers are reacting.
And, yes, other video apps have similar social features, but only Facebook is as big as, well, Facebook.
FACEBOOK FAVORS LIVE
Facebook updates its algorithms often, but major changes tend to both reflect and shape the way we create and consume content. Take the algorithm change that favored posts with photos, for instance. Facebook incentivized brands to add more visual elements to their social posts, while at the same time updating the Newsfeed to make photos more prominent.
Its latest update to the algorithm favors video, especially Live videos, over other content. So if you're working hard to reach your follower segments on Facebook, video will make it a little easier.


USERS LIKE IT
It's hard to beat the value of creating things that your audience wants more of. Social video already generates 1,200% more shares than posts with images or text, and people clearly enjoy interacting with video content. Live video takes that engagement up a notch, so it's becoming popular with brands and consumers alike. People spend three times as long watching Live videos as they do regular ones.
The first question to answer before you start creating Facebook Live videos: "Why are we creating Facebook Live videos?"
Video is a great medium for reaching audiences and engaging with them about the things they care about. Live video is even more attention-grabbing. It gives you a new way to share content and connect with your audience.
But not everything is right for every brand or every situation. Carefully evaluate your reasons for using video and specifically Live video to make sure it aligns with your overall goals.
Speaking of goals -- set some! Facebook's video metrics allow you to benchmark against your own video performance and that of other brands on Facebook.
Types of goals you could set include:
Video views
Engagement, i.e., reactions or comments on the video
Clickthroughs on your call to action (which you can append to a live video when it's done)
Actions taken based on your video and the call to action
Tie these goals in with your overall marketing strategy. If you're directing followers to a landing page urging them to donate to a specific cause, measure the impact of a Facebook Live video in driving page views and donations. You could also drive people to sign up for your newsletter, register for a webinar, or download a template.
You should also try out different content formats to see which resonates with your audience. Try out one or a few of these six different types of videos that are perfect for live streaming:
1) BEHIND THE SCENES
For the 2016 Academy Awards, the team streamed live video on Facebook, showing guests arriving, backstage during the announcement of winners, and interviews from the red carpet. This live streaming leading up and during the event gave viewers an inside look at the film event of the year and kept people engaged with the show on another platform.
They also created a playlist featuring all the Live video content that was streamed during the event.
You could imitate this behind-the-scenes format by giving viewers a sneak peek at new products, a recently renovated office, or preparations for an upcoming event.
2) CONFERENCE OR EVENT
This is one of the easiest way for brands and marketers to use Facebook Live, especially when starting out.
If you have a company event, prominent speaker, panel discussion, open meeting, or any kind of event where you'd like to multiply your reach beyond the folks who are attending, video is always a good idea -- and live streaming helps viewers feel like they're a part of the event, even from behind their computer or phone screen.
For instance, TechCrunch used Facebook Live to broadcast interviews and speakers from the 2016 Disrupt NY event, letting people who couldn't be there experience the conference as close to firsthand as they could.
3) FEATURE STORIES
News outlets and other content creators can use Live as an option for telling digital stories. For instance, CBS This Morning partnered with the National Park Service and National Geographic Travel to produce a weekly series celebrating 100 years of the National Park Service.
4) Q&A OR INTERVIEWS
Live videos make a perfect medium for Q&As. You'll be able to see the questions as they come in through the commenting feature, and presenters can even call out specific people as they join the video chat for an engaging, personal touch.
Wimbledon champion Andy Murray conducted a live Q&A on Live right after winning his second Wimbledon that has garnered more than 2 million views as of August 2016.
5) PODCASTS
One of the most effective ways we've seen people leveraging the power of Live videos is to combine it with podcasting.
By doing a simultaneous podcast taping and Live video segment, you can reach a larger audience and add a visual element to the audio format. Think about how sports radio shows like The Dan Patrick Show tape a television show at the same time as they're broadcasting on radio.
HubSpot has used this approach while taping new episodes our podcast The Growth Show.
6) CONTESTS
Another fun way to create Facebook Live content while encouraging fans to interact with your company is to create a contest or activity that people can participate via the commenting function on Facebook.
NPR recently asked its community to go up against its editors in a challenge of who could write the best headline.
Now that you're armed with compelling reasons to create a Facebook Live video and a plan of action, what do you need to actually create one?
The simple list:
A personal Facebook account or a business page.
A smartphone, laptop, or other recording device with access to the Facebook app, the Facebook Pages Manager app (App Store | Google Play), or a live encoder
A strong internet connection
That's really it! Of course, the types of videos you create will have a lot to do with the goals you set. You may not want your video to be super polished if you're trying to give everyone a taste of what it's like to be in the crowd at a concert or event. You probably want to up your equipment game if you want to produce a high-quality broadcast of an event, though.
And depending on what you want to do with your video, you'll need to know a few things before actually going "LIVE."


THE TOOLS YOU NEED TO GO LIVE
1) CAMERA
Facebook Live works with pretty much any device that's capable of accessing a Facebook app, so you can use your smartphone, tablet, or laptop.
Additionally, Facebook's Live API allows you to produce a Live video from any device with live video encoder software. This means that even a multi-camera event can be broadcast through Facebook Live, whereas before you'd need a device with the Facebook app.
2) AUDIO
If you want to reduce shakiness of the video or improve the audio quality, you have a few options. Try using a tripod or selfie stick to keep the frame steadier -- this will also allow you to put your recording device closer to the action. Lavalier or directional microphones will vastly improve your audio quality for interviews and events.
3) QUALITY
Always be aware of your surroundings. If you're filming inside, make sure your lighting works when you look at what your followers will be seeing. If you're outside, don't stand in front of the sun or cross back and forth from shade to sun.
In terms of internet connection, you don't need to be on wifi to use Facebook Live, but it's the best choice. If you can't get wifi, then you need at least a 4G network connection to make it work. If your connection isn't good enough to stream, the button will be grayed out.


HOW TO START YOUR FIRST LIVE VIDEO
UPDATE YOUR STATUS
Access Live Video through either the Facebook app or the Pages Manager app.
Through a personal account, click on the "What's on your mind?" box at the top of your Newsfeed.
In the options below the area to input text, you'll see a list of options, which include Live Video.
In the Pages Manager app, click "Publish" from your brand's page. On the following page, you'll find an option at the bottom of your screen that says "Add to your post." Select this, and then click "Live Video." If this is your first live video, Pages will request access to your camera and microphone. Click "OK" for both.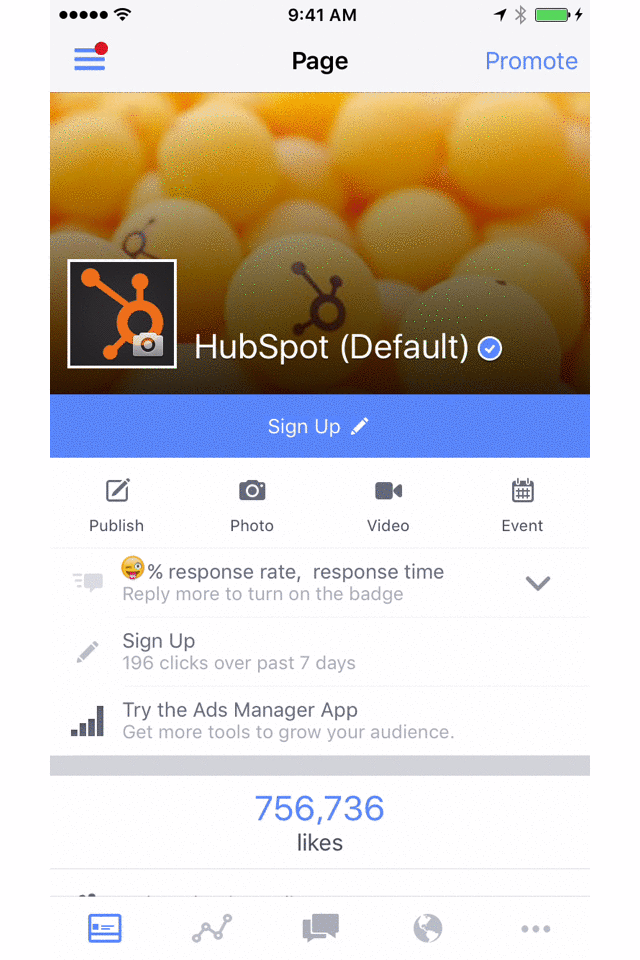 On this page, you can choose to go live in selfie mode, where the camera faces you, or you can click the rotating arrows
in the top right corner and choose to film in the opposite direction.
CHOOSE WHO SEES YOUR VIDEO
If you're using a personal profile to live stream, you can select a pre-built audience like "Friends" or "Public," or you can use a custom list of specific followers. You'll see the option to build a custom list if you click "More".
Note that if you're in the Facebook Pages Manager app, you don't choose an audience -- it's automatically set to Public. Instead, your video will automatically broadcast to everyone who is following your business page.


WRITE YOUR DESCRIPTION
This step is crucial! The description is the only thing your followers will see telling them what your video is, so it should be catchy, clear, and interesting.
If your followers start watching the Live video after it has already begun, make sure you've described it well enough so they know why to continue watching.
You'll be able to update this description after you've completed your Live broadcast and before sharing, but during your broadcast, you're stuck with the one you set prior to streaming.


GO LIVE
Once you've entered a bit of compelling copy, click the blue "Go Live." A 3-second countdown timer will begin before you are actually live streaming.
Live videos can be streamed for anywhere from a few seconds up to 90 minutes. Facebook recommends you broadcast for at least 10 minutes.
And once you're live, you can choose to use a filter or even draw on the video for a more interactive experience.
Source: Facebook
If it's a one-off, you should start your live broadcast slightly before the main event starts. Use a placeholder screen like the team behind the movie the Fantastic Beasts and Where to Find Them did when they debuted the movie's trailer at San Diego Comic Con 2016.
If want to create a regularly occuring Live show, film it at a consistent time of the week and day so people know when to tune in.
You should also remember a few rules of Live video that you might not think of if you're used to typically produced videos:
Audience members could join you at any time. Make sure to occasionally welcome new viewers and give them a brief recap of what they're watching
Mistakes will happen during anything live! Just go with it and know that your audience also understands you're live and things won't be perfect – that's part of the appeal of the medium, after all.
Pay attention to the live comments coming in to see if there are any questions you can answer or feedback. People might tell you things like "your audio is wonky" or "you're too shadowed" that you might not realize when streaming.


HOW TO STOP YOUR BROADCAST
When you're finished with your broadcast, just hit "Finish." Facebook will automatically prepare your video for posting.
You'll get a screen with a few options. You can post it to your wall, delete it, upload it in HD, or download it.
After looking at the stats on your Facebook Live video, there are a few things that you might conclude.
Your Live video completely rocked. You blew your expectations out of the water, it resulted in all kinds of views, buzz, and traffic toward your goals!
Your Live video performed as expected. You got the amount of viewers you wanted, you accomplished the goal you set out to complete, and you feel like you got exactly what you needed from your video.
Your Live video's performance was disappointing. You didn't get anywhere near the viewership or results you hoped for.
Regardless of which of those three you're feeling when it's all said and done, think about how you can keep getting additional value from your video.
Here are a few things you can do to capitalize on the momentum of your Facebook Live video:
1) REPACKAGE & RELEASE SHORT CLIPS
You can download your Live video file and create lots of smaller piece of content out of it. If you live streamed an entire event, try creating small clips to use in various social media posts or blog posts in the future.
If your video is longer than 10 minutes, you likely have at least a couple of smaller segments you can turn into clips and repackage with other types of content.
2) LINK TO IT FROM RELEVANT CONTENT
Treat your Facebook Live video just like an article. If you write a blog post or create another video that's relevant to the same topic, mention or link to your Facebook Live video and give people a chance to rediscover it. You can also embed a Facebook Live video into your website.
3) DISTRIBUTE IT THROUGH OTHER CHANNELS
Your video itself can be a story. You can cover it on your blog or other marketing channels and talk about the process of the video coming together, analyze comments or reactions, do a follow-up piece based on questions you didn't get to during the live broadcast -- there's plenty of opportunity if you adopt the mindset that your Live video was just one piece of the puzzle.
You can also distribute it to content partners or place stories in industry publications related to the events in your video. For example, here's Callaway Golf's Live video tour of golf legend Arnold Palmer's office:
And here's a LinkedIn post promoting a story from ReadyMag that features the video from the same visit:
Visuals will rule the future of content. Whether it's images, video, live video, augmented reality, virtual reality, or another combination, marketers everywhere are already diving in to figure out how these technologies can help them create more genuine connections between their audiences and their brands.
If you're on the fence about getting started with Facebook Live, or if you've just started to integrate it into your marketing tactics, here are a few key points to remember:


DO WHAT WORKS FOR YOUR BRAND
As a marketer, you know your audience intimately. You know what they want, how they consume their information, and what types of mediums and platforms make sense. Facebook Live is a new way to connect with people, but you still need to do it in a way that feels true to the brand. Nothing is easier to detect in social media than inauthenticity.


PREPARE, PREPARE, PREPARE
Don't be Buzzfeed having a technical glitch while trying to go Live with the President of the United States. Practice going Live by setting your audience to "Only Me" so no one else will see it. Have a sense of what you're going to do before you start broadcasting. If you need high-quality equipment, invest in the right gear before you begin.


MEASURE, ADJUST & MEASURE AGAIN
Know where you're going when you set out on your Live journey, or at least where you'd like to go. Videos for business and marketing purposes should be fun and engaging, but not all fun and games. Measure your results when you're finished, and use these metrics to adjust your tactics next time.


GO FOR IT
And after all that … remember that it's easy to fall victim to preparation paralysis. Be prepared, have a plan, practice, but then you just have to go for it.
The good news is that like podcasting, like video, like social media, once you start using Facebook Live and discovering the types of videos that work, you and your brand will hit your stride and be able to tap into this effective marketing tool.
Happy broadcasting!